Shamanic Workshop I
This experiential day will introduce the concept of Shamanism.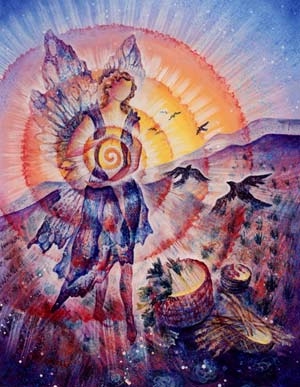 You will be taken on a journey to meet and communicate with your Power Animal.
The practice of Journeying will be introduced and explained and you will be guided on a Shamanic journey.
We shall journey to the Lower World where you will be met by a guide and led to explore your own personal Eden; a place where you can return anytime to meet and commune with your guide and receive healing.
You will Journey with the drum and we shall explore healing through sound.
You will be taken on a journey to meet Gaia / Mother Earth and work with her to cleanse and energise your chakra's and relationship chords.
This day will enhance and allow you to trust your intuition and assist you to gain a stronger connection with your spirit guides.
The day will strengthen your connection to Mother Earth and Earth energies.
I channel a Peruvian Medicine Woman who guides and teaches me. The day will reflect her guidance and the needs of the students.
Cost only £50
For dates and to book online
If you have any further queries or require any further information on this or any other courses please do not hesitate to contact Andrea