Reiki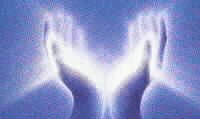 The practice of Reiki is an original method of healing, developed by Dr Usui in Japan early in the 20th century, which is activated by intention. Reiki's natural healing energy works on every level, not just the physical, and promotes the body's regenerative self-healing ability.
The Japanese word Reiki means 'Universal Energy'. Eastern medicine has always recognised and worked with this energy, which flows through all living things and is vital to well-being. Known as 'ki' in Japan, 'chi' in China and 'prana' in India. Acupuncture, T'ai chi and Yoga are also based on the free-flow of this energy in a person.
Reiki is a non-invasive therapy which treats the client holistically.
Some of the benefits;
Alleviate symptoms
Relief from pain
Removal of negative energies
Re-harmonise the body
Remove blockages
Encourages and supports positive personal change
Accelerate the healing of physical problems
Balance the emotions
Free us from restrictive mental attitudes
It may also provide a closer connection with inner wisdom.
Peace, Love & Healing
Price - £35 per session.