Colour Therapy
Light Therapy has been valued throughout history as a remarkable source of healing. Today the therapeutic applications of light and colour are being investigated in major hospitals and research centres worldwide. Results indicate that full-spectrum, ultraviolet, coloured, and laser light can have therapeutic value for a range of conditions from chronic pain and depression to immune disorders.
This colour experience provides the opportunity to discover, for yourself, the impact colours can have on well-being. The need for a particular colour's vibration seems to differ from day to day or even from hour to hour. When you absorb a colour vibration it travels, via the nervous system, to the part of the body that needs it. Each body has its own optimum state of well-being and is constantly seeking ways to maintain or restore a balanced state. Utilizing colour, is one way you can help restore harmony!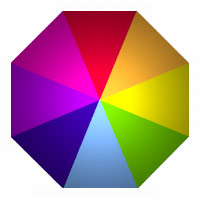 Colour Therapy Training takes place over two days and involves;
History of Colour
The seven main Chakra's of the body
Crystals
Colour as energy
Why things are the colour they are
Colour Perception
Waves Lengths and Frequencies of Colour
Primary Colours
Secondary Colours
Tertiary Colours
Complementary Colours
History of Colour Therapy
Healing with Colour
Crystal Cards
Light Therapy
The Psychology of Colour
Colours

Red
Orange
Yellow
Green
Blue
Violet
Indigo

Colour Blindness
Colour in the Home
Colour Breathing
Colour Meditations

Includes Manual and Certificate.
The Certificate will be awarded on the successful submission of case studies.
Contact Andrea for details and dates of the next workshop 07740663875
Or Workshop Dates where you can book online.
Let Andrea guide you along your life path.
Cost £ 140